I would love to fill up your pretty pussy and your beautiful ass with my cum !Kisses.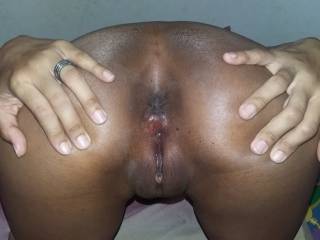 Mmmmmy favorite one position! I'm gonna grab that hot ass with my hands and start to lick gentle and hard rubbing up/down through your ass gap - your pussy and asshole, playing with clit, eat it all your sweet pussy, continue do tongue fuck and fingering your holes. Make your pussy very hungry to feed her deep fulfilled with my big very hard cock. 
I'm gonna drive you crazy and make you very wild.
You gonna groan, moan, roar, scream.
I'd (I'll) kneel and fixing your legs with mine or climb on your sweet hot ass, start teasing your ass and pussy rubbing up/down through your ass gap with dickhead of my big hard cock in my hand, then start to ride and drill you - first tease your holes with my dickhead do rubbing circles then slide shallow dickhead only, then stinging you in/out (pull your hair back, nibble your shoulders and neck), then ramming and drilling deep fulfilled you deep inside (of course if you like hard and rough sex). That will gonna be a wild ride. MMM. MMMMM You look sooo DAMN TASTY! I'd love to be there behind you licking you from your sweet hard swollen clit too your PERFECT BEAUTIFUL TIGHT ASS plunging my tongue deep into both your tight holes making you squirm with pleasure coating my tongue and glazing my face with your hot creamy DELICIOUS candy again and again then slide my thick throbbing hard swollen cock in ball's deep and pound you long and hard working it side to side till you GUSH all over both of us again and again then pull out and slowly slide into your BEAUTIFUL TIGHT ASS till I bottom out and slowly pick up the pace till my ball's are slapping your hard clit with every thrust till I can't hold back any longer and pull out and spin you around and BLAST a HUGE HOTT STEAMY LOAD in your mouth and all over your pretty face then start all over again anytime anywhere SEXY! Sounds like a fun time with a slutty fuckdoll 😍 would love to be in line to fuck ure both holes and then add my cum on ure pretty cummed face. Gorgeous brown arse, would love to be sliding my cock into your hot little pussy as you eagerly spread your cheeks. I would love to eat out your sweet pussy and tongue fuck your ass hole then fuck you good and hard.