They are lovely! I would totally enjoy licking and sucking them.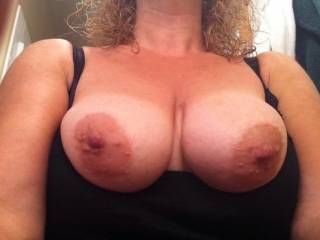 Kiss them, bite them, lick them, smack them, push them, pull them, grip them, hold them, rub them, squeeze them, fuck them.
 Massage it all over with my warm stiff cock, left, right, up and down, circles on your nipples until my clear pre cum is dripping from your nipples. Like your nipples? - No. But, damn girl, I LOVE your beautiful, bountiful nipples. Oh how I'd love to kiss, pinch, slap.Suck. Suck. Suck. So fuckable too. Mmmmmmmmm. ;-) Yum lovely aroused nipples, they are nice and pink too,and very suck able,and good to nibble too. Mmmmmmm.Yes, baby. Thank you. Love to kiss. Love to suck. Love to fuck. Sexy I love you big brown nipples .Would love to cum all over them.